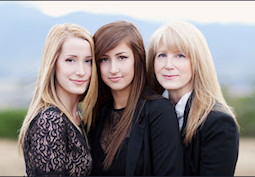 Amber House
, the first book in
The Amber House Trilogy
was published in October 2012.  Its sequel,
Neverwas
, is slated for January 2014, with a final installment,
Otherwhen
, currently being written.
According to interviews, the ladies are descended from Mayflower passenger and Jamestown settler Stephen Hopkins.  Inspired by her own family history, Kelly Moore wrote the beginnings of what would become Amber House in the 1980s, but it wasn't until her daughters Tucker and Larkin Reed found the manuscript and convinced her to work on it with them that it became a full-fledged book.
Kelly Moore is a former lawyer, a New York Times best-selling author, and a single mother of three. She co-wrote the true-crime work Deadly Medicine, which went on to become a New York Times best-seller for seven weeks, and also a NBC TV movie-of-the-week.
Tucker Reed has been recognized on the national level for her essays and short stories. She studied film and theatre at the University of Southern California in Los Angeles.
Larkin Reed is an award-winning writer and filmmaker.  She is currently completing her Bachelor's degree in film studies.
Collaboration
Edit
Moore grew up with a strong fascination in Colonial history and antique artifacts, as her father was descended from Revolutionary War soldiers, and her mother was a well-known antiques dealer in the San Francisco Bay Area.  When Moore attended Santa Clara University, she also developed an interest in the nearby Winchester "Mystery House" and the story of its eccentric owner, the widow Sarah Winchester.
Tucker stumbled upon her mother's story outline from college while researching the family's genealogy.  She encouraged Moore to adapt the idea into a young adult novel, and soon Larkin began to work with the two developing characters and storylines.
The book was completed within two months.  It was published by Scholastic's Arthur A. Levine Books imprint in October 2012.  It is the first in a projected trilogy.  The second book in the series will be released in January 2014.
According the to sisters' official blog, in addition to family history and the urban legends surrounding the Winchester mansion, the story was heavily influenced by The Secret Garden, Stephen King's The Shining, the film Jumanji, and an episode Moore saw as a child of Lost In Space in which one of the Robinson children gets stuck in a mirror-world.